Stop Settling for Inflexible Installment Loans
Apply for a flexible personal loan made for you
Typical installment loans limit your access to credit. A line of credit from LendDirect is a flexible personal loan that provides you with ongoing access to credit with unlimited, no-fee cash advances†. Apply today to access up to $15,000.
Apply Now
Use Your Line of Credit Any Way You Choose
Personal lines of credit can cover many different expenses! Yes, even for times when you "accidentally" spill pasta sauce all over your husband's hand-me-down sofa and need to replace it with a new living room set – your secret is safe with us. ☺ Whether you need to pay for a large purchase, cover unexpected bills or consolidate your debt, a LendDirect personal line of credit may be able to help you achieve your goal.
A Line of Credit with a Payment Plan that Works for You
Whichever way you choose to use your Line of Credit, you can count on our flexible payment plan to work around your needs. You have the option to pay off the loan early to save on interest, so what's not to love? And, did we mention the unlimited, no-fee cash advances† up to your approved credit limit? Yep, that's on the benefits list, too.
Apply Now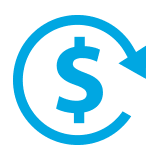 Flexible Payment Options
Choose to pay the minimum amount due on each scheduled due date, or pay an additional amount to pay off your line of credit loan and save on interest – the choice is always yours.
Rates & Terms
LendDirect provides personalized rates and terms, plus affordable payments.
Cash Advance Benefits
Only apply once and access your money at any time – up to your credit limit. As long as you have available credit, you can get as many no-fee cash advances as you need, whenever you need them.
Apply Now