Personal Loans on Your Terms
Take control of your finances with a Canada personal loan up to $15,000.
Apply Now
Our Personal Loans Explained
Flexible Lines of Credit
A line of credit works similar to a credit card. If approved, you are given a credit limit and make payments based on your principal balance and daily interest accrued. We are the sole provider of line of credit personal loans because we believe loans should work around your needs and not ours.
Unlimited Cash Advances
If approved, you'll have unlimited, no-fee cash advances† up to your approved credit limit. This means, by simply logging into your online account, you can have funds transferred straight to your bank account. Get your funds in as little as 15 minutes if deposited via Interac e-Transfer®.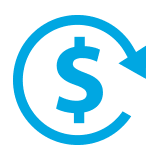 Continuous Loan Term
Never reapply and never worry about the loan term ending like a typical installment loan. With our line of credit loan, you are covered as long as you want. You can even keep a zero-balance on the loan for up to a year in case you find yourself in need of an additional cash advance for unexpected or planned large expenses.
Find Out More About Personal Loans
Putting "Personal" Back in Personal Loans
We could give you benefits and throw figures at you all day but we aren't going to do that. We'd rather you hear about our services from people just like you, or as we like to call them, our Customers.
The LendDirect
Line of Credit Process
1Apply

Fill out a Canada personal loan application either 100% online or by phone.

2Verify Your Income

Submit documentation verifying your income to receive a final lending decision.

3Receive Your Funds

If approved, have your money direct deposited via Interac e-Transfer® and you could get your funds in as little as 15 minutes.

4Access More

If you need additional money at any time, you can take out unlimited cash advances† up to your approved credit limit without ever having to reapply.